Mural Mural on the Walls Recent Projects and Current Events
Frederick Douglass Senior Center Ribbon Cutting Ceremonies and Celebrations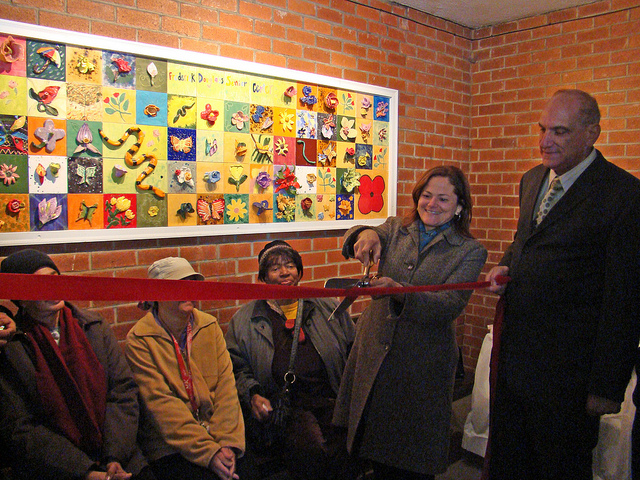 In November 2011, Frederick Douglass Senior Center celebrated the unveiling of the Ceramic Tile Mural Project with a ribbon cutting ceremony. Culminating with the coming together of funders and participants, the event was attended by public representatives and dignitaries including Council Person Melissa Mark-Viverto and State Senator Bill Perkins.
Project Funders included Melissa Mark-Viverto, State Senator Bill Perkins, and NYC Department of Community Operations. Other funders not in attendance include NY State Assemblyman Daniel O'Donnell and Manhattan Borough President Scott Stringer.

Jennifer Wade Ceramic Tile Mural Beautification Project Grant Award
Jennifer Wade is a 2012 Grant Recipient from The Brooklyn Arts Council.
Seniors are participating in the construction of a nature-themed tile mural to be installed inside the Social Lounge of the Senior Center.
Bay Senior Center is located in the Sheepshead Bay neighborhood at 46-33 Nostrand Ave. Brooklyn 11229.
This project is sponsored, in part, by The Greater New York Arts Development Fund of the New York City Department of Cultural Affairs, administered by The Brooklyn Arts Council Inc. (BAC).
A NYCHA sponsored site, Bay Senior Center is sponsored by Catholic Charity Neighborhood Services, funded under contract by The New York Department for the Aging.
To learn more visit brooklynartscouncil.org/documents/1881


New Mural unveiled at Langston Hughes
Langston Hughes Senior Center recently unveiled a new mural inspired by African Masks and textiles. The event included dance and magician performers. The mural project, located in the Brownsville section of Brooklyn, was coordinated by Kathleen Christie through the Brooklyn Arts Council and made possible by the generous contributions of Council-Person Mealy.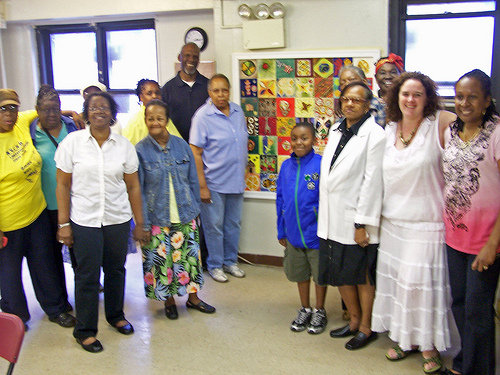 Mural Mural on the Walls conducted an intergenerational educational program for members. The Langston Hughes Senior Center is open to the public. Handicapped accessible, the Center serves people with medical concerns specific to the geriatric population including special need mobile impaired.

Mural Mural on the Walls Ceramic Tile Beautification Garden Project in Brighton Beach, Brooklyn
Jennifer Wade and Mural Mural on the Walls offers a unique artist-in-residence program with the project objective of creating an outdoor ceramic tile mural to beautify the Garden in Brighton Beach, Brooklyn.
Funded in part through The National Endowments for the Arts, the ceramic tile garden beautification project is a partnership with The Jewish Association Serving the Aging Senior Alliance (JASA) and Seniors Participating with Artists Citywide (SPARC).
Seniors Partnering with Artists Citywide (SPARC) is a community arts engagement program that places artists in residence at Senior Centers accross the Five Boroughs of New York City. Through the program, 50 artists are provide creative programming for seniors and present free public events displaying a diverse array of projects in the spring and Summer of 2012.
The program was developed in 2009 as part of The Mayor's Age-friendly NYC initiative, and is supported, in part, by a grant from The National Endowment of the Arts.
The Ceramic Tile Beautification Project is at the Garden at 161 Corbin Place, Brighton Beach, Brooklyn 11235.